Advertise with us!
Reach busy nonprofit leaders weekly by advertising in GC Nonprofit News!

Post a job with us!
Posting your job openings in GC Nonprofit News will enable you to recruit applicants who have the qualifications you are looking for and an understanding of the nonprofit workplace.
GC Nonprofit News is the premium weekly e-publication for everyone who works, volunteers or does business with nonprofits in our region.
In partnership with local nonprofits and our sponsors, we strive to create a more informed, open and connected community, by sharing nonprofit news, job openings, and resources.
Explore how you and/or your organization can engage with GC Nonprofit News.
Scan the QR Code below to sign up to receive the weekly eNewsletter.
I am grateful I found my perfect candidate for my open position in Greater Cincinnati Nonprofit News.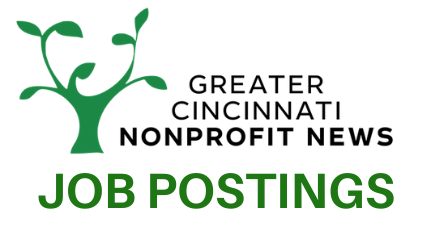 Is your nonprofit having problems with recruiting qualified candidates for your open positions? If you are, you are not alone.
Thank you to our sponsors and partners